eContext just got a site revamp, making our classification tech more accessible to new customers and more convenient for old ones, and giving everyone the opportunity to try eContext now and see how it works.
Try eContext Now
You may have noticed one of the key updates right there on our front page: a live classification tool that allows users to "try eContext now" and classify Tweets by handle (@), URLs, or text. Not only does this tool demonstrate how quickly eContext can process real-world text, it's a great way to explore the deep topic hierarchy that has proven so vital to our results. Here's how eContext classifies…eContext: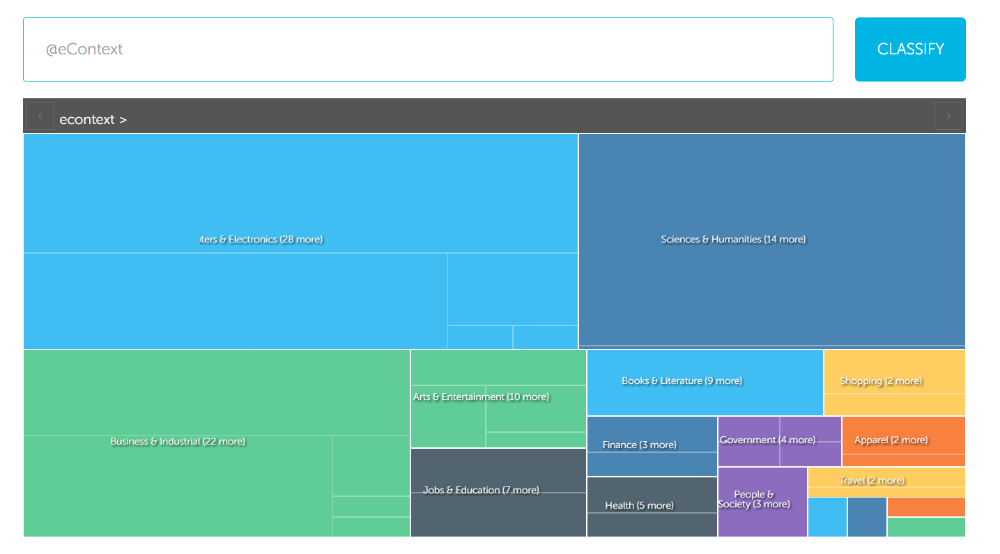 As someone who has been using this tool on the backend for awhile, I have to say, this thing is more than just a demo. Even if you're already familiar with our work, there are some fun and practical ways to actually get some use out of this feature:
News at a (literal) glance – Punch in a handle like @reuters or @ap to see a consolidated summary of recent news. Drill into broad topics like "Government" or "Health" to see what kinds of stories are grabbing media headlines.
Battle of the brands – It's safe to say that @CocaCola and @Pepsi both Tweet about soda, but do you know which one has more to say about pop music? Check out your favorite brands' topic profiles and quickly learn which of them Tweet about the topics you care about.
Hashtag decoder – I've been swimming in Twitter data for years and even I sometimes get confused by certain hashtags. Sure, I've seen #tbt and #foodporn a billion times, but what's this #coltsforged nonsense? Run an unfamiliar tag through the tool to get a quick primer and stay up to date.
You are what you tweet – Ah yes, the vanity check. The first time I ran my own Twitter handle through this tool, I discovered that I tweet about grammar a LOT more than I thought (no apologies). Whether for fun or for personal brand-building, sometimes you just have to check yourself.
Can you think of other uses that I haven't listed? Don't be afraid to get creative: the more use you can get out of our tool, the more you'll understand how companies can benefit from large-scale content classification. Check us out and be sure to let us know what you come up with.