Let's say you have a meeting with a high-powered funder who is considering making a grant to your educational organization. Of course you do all the research you can on the company she works for, the projects the company tends to fund, and you check out the funder's profile on LinkedIn. For the most part, you'll discover the basics about the funder — past jobs, where she went to school, professional awards she's received. All of this information helps you know a bit more about her, and you may get lucky and be an alum of the same college, or you both may be from the same home town. But if you dig a little deeper, you might discover something more helpful.
Better insights through social media
The eContext Social User Profile tool was designed to take a deep dive into a Twitter user's account to deliver information on what the user cares about most. eContext analyzes the user's Twitter feed in real time and categorizes her publicly-available Tweets well beyond the top two or three categories you get by looking at a LinkedIn profile.
With eContext, Tweets are classified into more than 21 tiers of depth, and mapped to a taxonomy that covers more than 450,000 topics. By entering the Twitter handle of the funder that you're going to meet, you'll see a display of her interests that looks like this:
You can see that she tweets about many of the business thi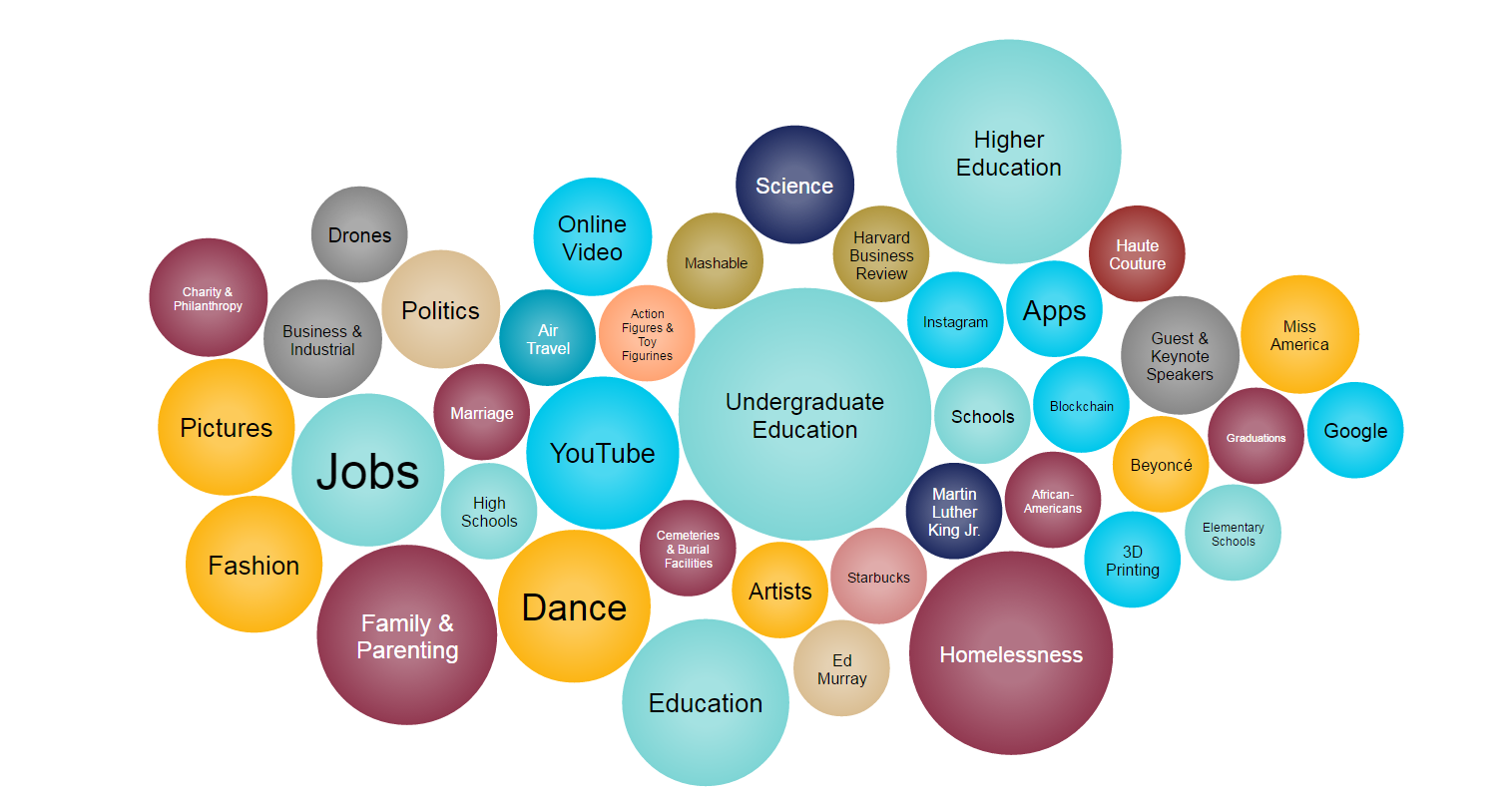 ngs you might expect – higher education, philanthropy, jobs, and keynote speakers. But you can also see a few things that just made your icebreaker a bit easier. For one thing, she cites the Harvard Business Review and Mashable with a good deal of frequency, so you can mention a recent article you read when you're talking with her. You can also see that she's into fashion and haute couture. By clicking on the "fashion" bubble, you can see a handful of recent Tweets that map to that topic. Now you know a bit more about this woman. She's into business, but also technology and fashion. By clicking through more of the topic bubbles, you'll also realize she's got a sense of humor and loves quirky things – maybe not what you'd expect from someone who works in her serious field.
Social User Profile: trends over time
The Social User Profile Categories over Time feature is also helpful. There are a number of different ways you can look at Tweets to see trends – by frequency, vertical, or trending up or down. Taking a quick glance at your funder's trending topics, you'll see that education and homelessness are two topics that she is showing some interest in lately. Homelessness among student populations has been a news story recently – if your project touches on this topic, you might want to be sure to read the articles she's been tweeting about and highlight the topic in your presentation.

You can also zoom in and out of the verticals using the Explore Verticals feature to see what your funder has been tweeting about.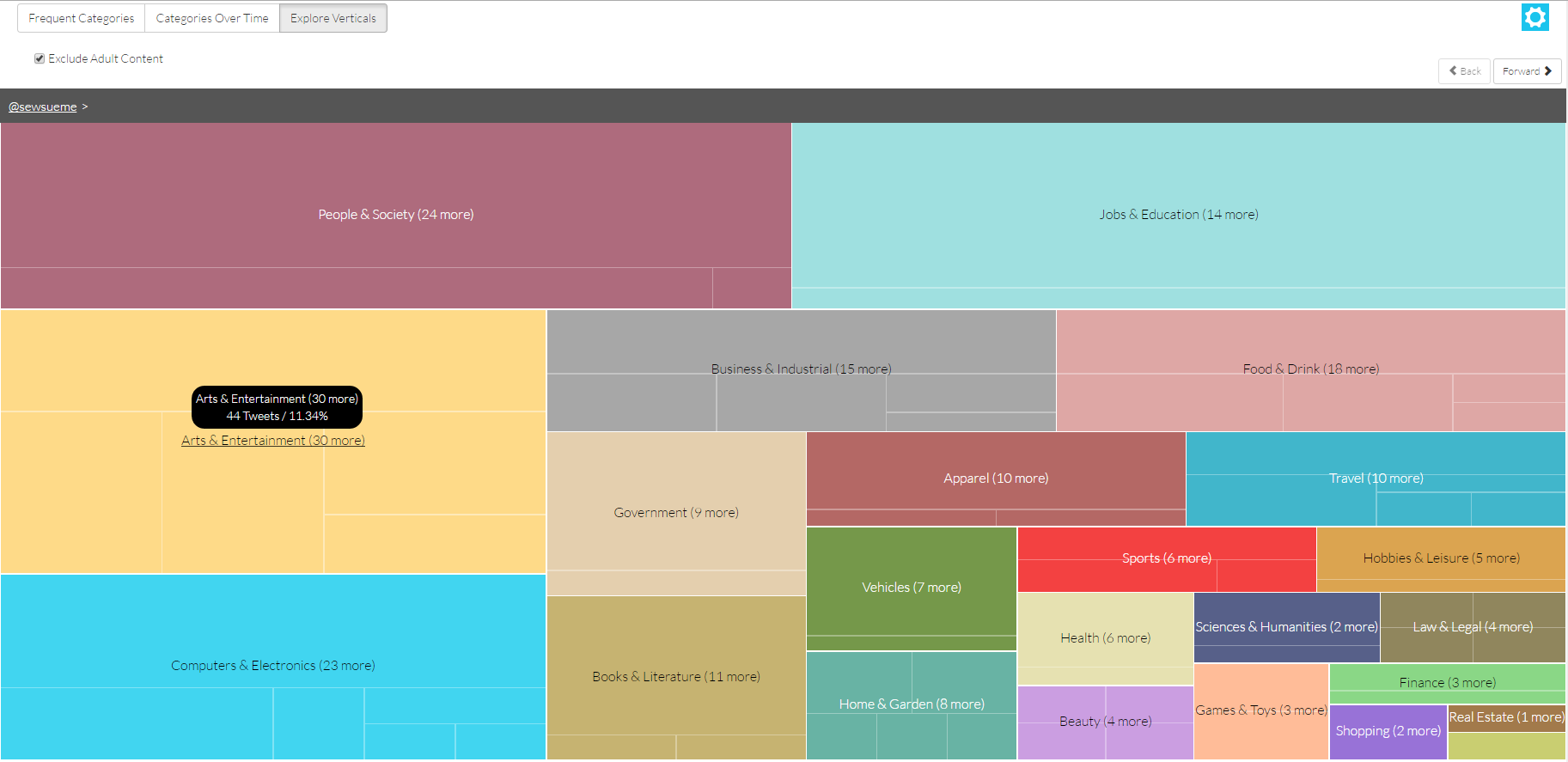 Building stronger relationships
We don't always have the time to sit down and talk with new business associates like we used to. This is why we are relying more and more on customer relationship management (CRM) software. CRM developers are working on ways to integrate outside data from a wide range of sources into their products, particularly social media, to give their users richer insights. For example, Sugar CRM boasts that it "provides contextual intelligence from internal and external data sources" and Salesforce's Radian6 offers a number of ways for clients to reach into social accounts to compile research on companies and individuals.
Our Social Profile Tool differs from all the others in that we don't offer a snapshot, or a feed of recent Tweets, we categorize Tweets for you so that you can develop a more accurate profile of a potential client, funder, partner, or friend. With this kind of deep insight, you can prepare a report that speaks more directly to the needs and tastes of your prospect, and have an infinitely better shot at making a better first impression.
Feel free to use eContext's Social User Profile to help you plan for your next meeting. And if you're working on a much larger scale trying to build better functionality into your CRM software, consider what our API can do for your offering.